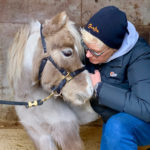 Sue has a lifelong heart connection with horses. They are the guiding spirits who brought her to the amazing world of Equus Coaching. Sue's background in corporate learning development and management allowed her to finely tune her listening, coaching and mentoring skills.
Sue grew up in the Northeast and moved to Seattle 30 years ago. She shares her home and her heart with 2 mini Dachshunds, Benny and Rudy and a big bay quarter horse named Moose. Sue loves sharing her deep passion for horses with anyone who is curious. She is also a licensed equine massage therapist and volunteers at local horse rescues and therapeutic riding centers.
Sue is excited to combine her diverse life, work and equine experience and support her clients on their own journey of discovery.