The Center for Equus Coaching
The story of the Center for Equus Coaching is a story of transformation.

It is a story about the ancient bond that exists between people and horses.
It is a story about learning from the wisdom of nature.
It is a story about leadership, personal power and the way horses can teach us to live.
The Center for Equus Coaching is a world-class training organization and international community of Equus Coaches dedicated to personal transformation, authentic leadership, and empowered living. We facilitate profound immersive experiences with horses to help individuals and institutions reconnect with their innate wisdom and gain a visceral awareness of the patterns that shape our lives and world. Founded by Koelle Simpson, the Center for Equus Coaching (formerly the Koelle Institute for Equus Coaching) instructor team has been delivering life-changing personal development work and leading the Equus Coaching Movement for over 10 years.
In its delivery of a unique learning experience, The Center for Equus Coaching focuses its efforts on four core values.
Core Value 1:
Authentic Leadership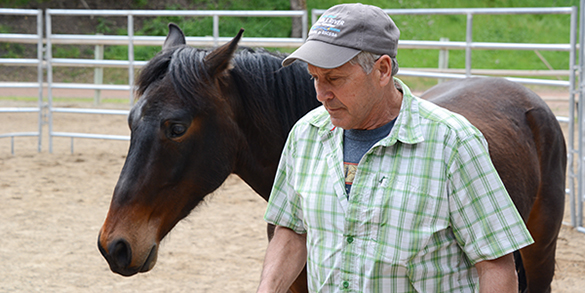 Workshop participants, individual clients, and Equus Coaching students are supported in re-connecting to who they really are beyond their fears of failure. They discover authentic leadership as a wise ever-evolving flow of information with the present moment.
Rather than striving in a competitive or approval seeking manner to rise to the top of any conceptual structure, they lead their own experience with a calm, connected, aware, empowered, and intuitive presence. They emanate a genuine energetic state of clarity and openness to what wants to happen and how to best use their unique gifts to serve the whole by maintaining their own personal alignment.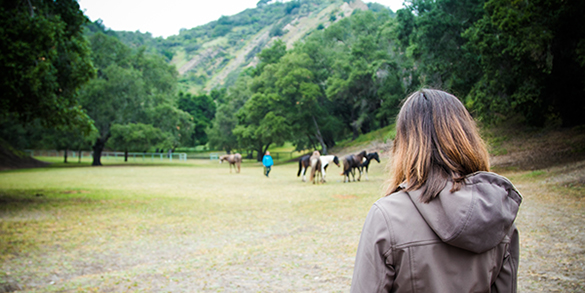 Workshop participants, individual clients, and Equus Coaching students are guided by horses beyond the limiting fear-based messages of our current social structure and back to their true essential nature. Nature models for us the way to be truly at home within our own experience of life.
This guidance returns human beings to a fuller appreciation for embracing all the diverse facets of themselves and thus becoming genuinely free to fulfill our highest nature – unlimited creativity!
Core Value 3:
Personal Transformation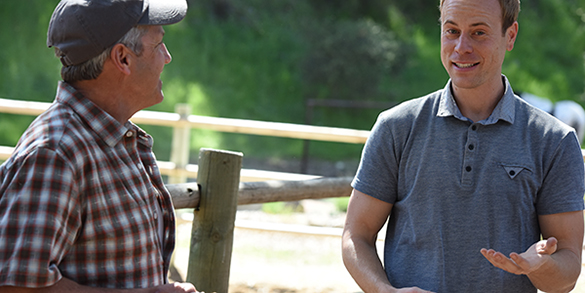 Individual clients, workshop participants, and Equus Coaching students are on a journey of discovery. A discovery that their external world is actually a self-portrait of their internal world.
Our daily internal dialog and the way we treat ourselves emanates the deep-seeded patterns that ripple into all the intricate dynamics of our lives. Once we embrace a new perspective of who we are, then we can become free to create a new sense of self. In this state of awareness, we will undergo a profound personal transformation that will impact every aspect of our daily lives.
Core Value 4:
The Return to Your Original Language – the Language of Energy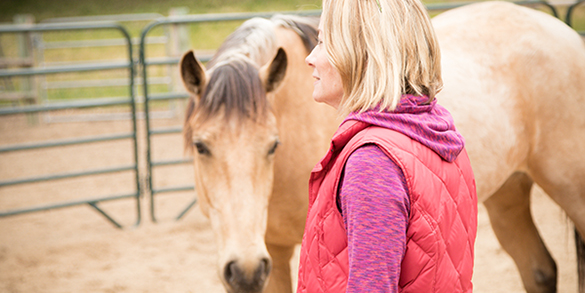 Individual clients, workshop participants, and Equus Coaching students are seeking to return to their essential wisdom. This wisdom is found in the original language of energy. Life, and our personal experience of it, is literally formed and shaped from our emotional energy state. It is the universal expression that connects all things into a collective play of relational experience.
As each individual's awareness returns to a felt-sense and conscious understanding of their own energy signature, they become free to co-create the life they yearn for. The work with horses allows us to demystify the language of energy. It returns us to a grounded, visceral, and personal relationship to our own creative power and the ever-evolving intelligence of life.
The Center for Equus Coaching is an educational organization designed to offer training, ongoing education, and community support for Equus Coaches and Equus Coach® Master Facilitators. It will also offer personal development and corporate workshops for the general public wishing to experience Equus Coaching.
Who We Are
We are a group of the industry's most experienced and most trusted coaches who partner with horses. Our skillful and caring instructor team comes from a variety of backgrounds including life coaching, teaching, counseling/therapy, healthcare, corporate finance, and various industry segments. We've developed a keen sense of what it takes to acquire effective life and leadership coaching skills, and how to best teach them to others.
Different backgrounds and life experiences lead to different teaching styles, which greatly benefits the student (you). We embrace diversity and appreciate that everyone must walk their own unique path to get here – to the horses.
Coaching with horses and people, Equus Coaching, is by far the most transformative work our community of professionals has encountered. It's a personal and professional passion. We can't wait to welcome you to the herd.
What We Do
We train and certify future Equus Coaches to do transformative life coaching work alongside horses. Our instructor team has taken years to adjust, expand and perfect the program in order to share the benefits with as many people as possible. We teach proven life coaching techniques combined with our unique equine-assisted model to deliver impactful results for clients from the very first session. Every Fall and Spring, we admit a new cohort of students into this unmatched certification program.
You'll have access to one-on-one and group sessions through online and in-person training intensives. We're committed to setting Equus Coaches up for success, so we'll continue to mentor and make connections well after the program ends in order to help new coaches grow their businesses.
Why Horses?
We rely on the wisdom and gentle nature of horses to guide people through a process that honors the past, uncovers unwanted behavioral patterns or why they're feeling stuck, and moves them forward with a sense of renewal, hope and purpose.
To learn more about how horses can help us, see our Press and Testimonials page.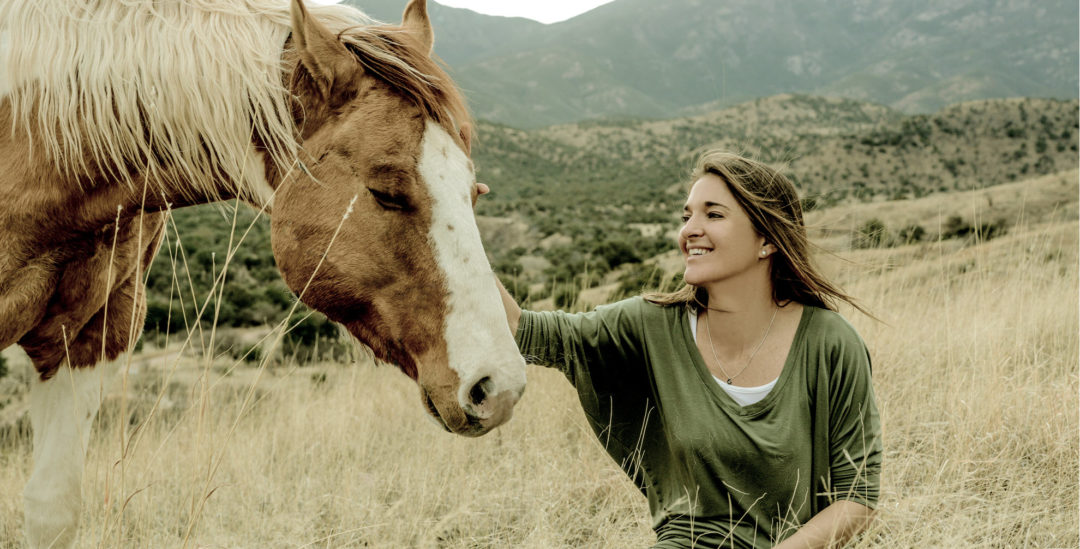 The Koelle Institute for Equus Coaching was founded by Koelle Simpson. Koelle is a life coach, horse whisperer, and a leader of the Equus Coaching movement.
After experiencing early childhood trauma, horses became an important part of her journey to rebuilding a sense of trust in herself and the world around her. The safety, honesty, and wisdom she witnessed in these powerful four-legged teachers offered a profound and playful roadmap to reconnect with her own inner wisdom.
Early in her journey, Koelle was able to apprentice with an internationally recognized equine trainer. She then went on to complete a direct apprenticeship with best-selling author, life coach, and O Magazine columnist, Dr. Martha Beck. Koelle's own work has been featured in O Magazine, BBC Business Report, the National Journal, the OWN Network and TEDx. She works with individuals and institutions around the world including South Africa, Europe, the UAE, Canada, and the United States.
In 2006, Koelle founded the Koelle Institute for Equus Coaching out of a desire (and demand!) to share her life-transforming insights with others. In 2020, Koelle transferred
ownership of the Institute to Erin Cutshall, and in 2022 it became the Center for Equus Coaching. Over the years, it has evolved into a remarkable community of compassionate
and highly skilled Equus Coaches dedicated to facilitating transformative encounters with horses.
To learn more about and find ways to connect with Koelle, go to KoelleSimpson.com.