The Center instructors have come together to create an amazing 7-teleclass series with a 3-day onsite.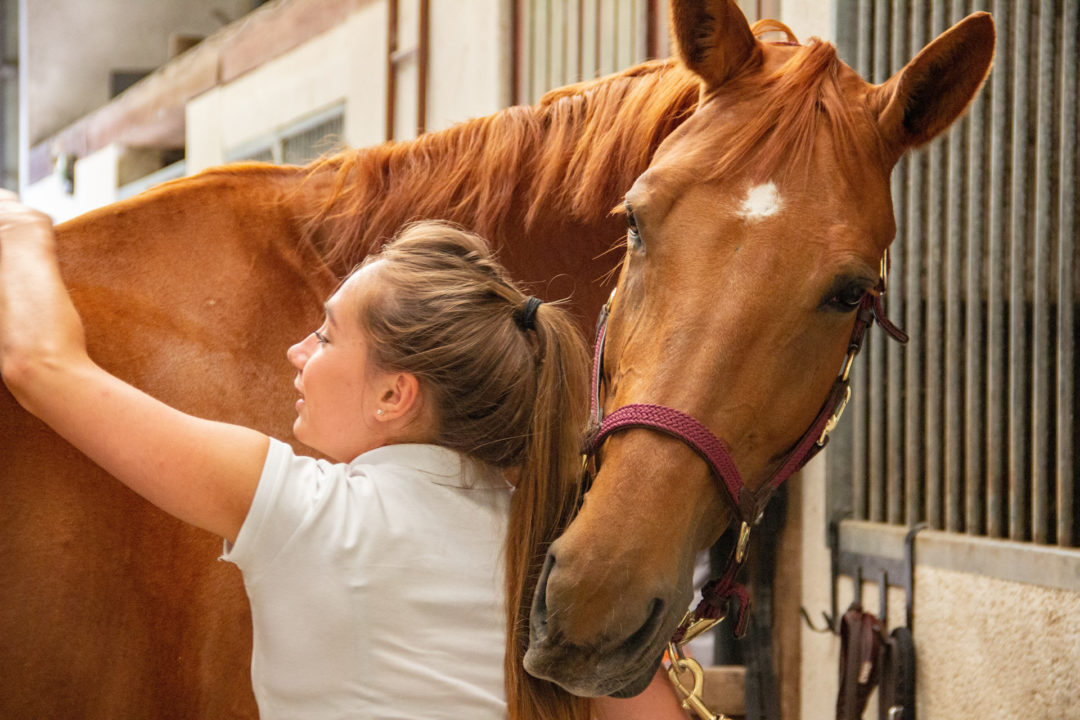 We have an offering that will help you improve your equus coaching skills, teach new techniques you can add to your coaching, and help you promote your Equus Coaching business.
These are all topics that haven't been taught in our Equus Coach Training or Master Facilitator training. Level Up 2.0 is a standalone course and previous participation in Level Up 1.0 is not required.
If you want to level-up your skills as an Equus Coach®, this course may be for you. After this training, you will have new skills to take back to your life and to your coaching clients such as:
Be able to explore the internal voices that guide our client's decision-making.
Better understand the relationship and bonding patterns that affect your clients' lives.
Bring greater emotional agility to your coaching allowing you to truly meet your clients where they are.

Help your clients access more authenticity by uncovering unwanted or unrealistic identities and the patterns they create.

Build more confidence and skills in interacting with new and/or challenging horses.
Move through marketing roadblocks and develop aligned strategies to promote your Equus Coaching business.
Come as you are, where you are.
Level-Up 2.0 Course Schedule & Class Descriptions
This course will be taught over two months. There are 7-teleclass gatherings (Taking place on Thursdays at 12pm PT. Beginning January 19, 2023 that will range from 60 to 90 minutes. Some of the classes will have materials that will be provided in advance. The course will wrap-up with a 3 day in-person onsite in Scottsdale, AZ.
Ways To Join Level-Up 2.0
There are two ways you can join!
Attend the teleclasses and the onsite. $1,600
Attend the teleclasses only. $400
Level Up Two was a great course but honestly the very best part of it was attending the on-site. In truth, I've never been to an on-site I haven't loved, but the Level Up on-site was by far the best of those I've attended. Our group included coaches with very different backgrounds, very different specialities and different levels of experience. Not only did those differences not hamper our bond, they wound up making the weekend incredibly enriching.  Being able to practice the Level Up concepts with other Equus coaches was quite simply extraordinary."  – Gari Lister
Class 1 – Attachment Theory
Taught by Travis Stock
Attachment theory, originally developed by John Bowlby, seeks to explain the complex relational and bonding patterns of individuals. It theorizes that the qualities of and experiences in our earliest bonds, often with our parents, create emotional and behavioral patterns – called attachment styles – that we carry with us into adulthood. Understanding the attachment styles of our client's can help us better assist them in creating more sustainable and fulfilling relationships.
During this class, attendees will:
Learn the four most common attachment styles.
Explore the emotional and behavioral impacts of each style.
Develop methods to help our clients increase their awareness and strategies to work with their attachment style.
Class 2 – Whole Brain Living: Helping Your Clients own their Choices.
Taught by Erin Cutshall
This class is based on the book, Whole Brain Living: The Anatomy of Choice and the Four Characters That Drive Our Life, by Jill Bolte Taylor. You will learn to explore the four internal voices that guide a person's decision-making. When brought to your Equus Coaching this will allow your clients to make empowered choices in their lives.
During this class, attendees will:
Learn about the four, internal characters that drive our client's lives.
Practice awareness of each character and its strengths and weaknesses.
Develop skills to help your clients be more intentional and own their life choices.
Class 3 – How New/Challenging Horses Can Make You a Better Equus Coach
Taught by Kasia Roether
Let's explore the transforming potential of interactions with new/challenging horses. With a shift in perspective, the variety of sensations we experience around horses creates an opportunity for a deeper connection with one's inner state and creative exploration of the moment's wisdom. We learn to ask more questions, expand listening for answers and strengthen the ability to feel.
During this class, attendees will:
Deepen your connection to your own inner state.
Awaken, sharpen, and develop your skills when working with new and/or challenging horses.
Turn those skills into practical tools for Equus Coaching sessions.
Class 4 – Emotional Agility
Taught by Renee Sievert
The way we navigate our inner world – our thoughts, feelings, and the stories we tell ourselves – contribute significantly to our joy and success. The term emotional agility originates from psychologist Dr. Susan David, who has spent many years researching happiness, achievement, and emotions. Her research, along with others, reveals that emotional agility helps us gather information from our cognitive and emotional data systems, recognize reactive patterns, and develop ways to navigate difficult situations. Emotional agility helps us be cognitively aware, emotionally open, innovative, and effective – each of which are key skills for coaches.
During this class, attendees will:
Identify and manage emotions when coaching.
Examine ways to be emotionally agile to maintain presence and a coaching mindset.
Describe the neurological processes that support effective coaching
Assist clients with unnoticed and unnamed emotions
Class 5 – Working through The 5 Phobias of Sales and Marketing
Taught by Christine Volden
The truly amazing thing about these phobias and characteristics is that once you address them, you will get a huge reward and breakthrough. You will be transformed into the best version of yourself.  You may not suffer from all the phobias (though I sure did), but if you take some time to identify the ones you do have (or may have had in the past) you will be able to  identify the sales superpowers you will be able to achieve and maybe even discover a few you already have.
During this class, attendees will learn:
Exercises to heal and work through each phobia
The Super Powers associated with each phobia that you EARN by working through them
Class 6 – Quiet Selling and the 5 Sales Phobias
Taught by Christine Volden
Quiet Selling is simply a new way to think about selling. We all sell our ideas, our beliefs, and our desires every day. If you are a human on planet earth, I guarantee that you are selling something to someone. If you are a parent, you are selling every time you ask your kids to put their shoes on or eat breakfast. If you are a teacher, you are selling every time you get your students to listen, pay attention, and take on a task you assign them. Ultimately, the act of selling is really about asking for what you want.  And there is nothing wrong with wanting things. It is an integral part of being human.
During this class, attendees will learn:
The Five Phobias and where they affect your life
How to identify the roots of each phobia
Class 7 – Identifying Unwanted and Unrealistic Identities
Taught by Renee Sievert
We spend most of our lives working towards who we want to be. This can become clouded by striving to be a perfect version of ourselves.  And we are also influenced by who we don't want to be. Brene' Brown calls these Unrealistic and Unwanted identities. Unwanted identities are linked to messages we may have received early in our lives. They can be ingrained patterns and critical internal voices that have played out so often that we don't realize they are running in the background. The internal pressure can also cause us to hustle to be an unrealistic version of who we are. Either or both can lead us and our clients to live an inauthentic life.
What if we practiced intentionally releasing perfection and embraced our imperfections? What if we could quiet the critical voice in our head that pushes us to unrealistic expectations, and let go of the worries about what others might think or say?
By attending this class, attendees will be able to:
Define and identify unwanted and unrealistic identities and the patterns they create
Examine how these identities are related to vulnerability and shame
Illustrate ways to discover these identities and allow space to step into authenticity
3-Day Onsite
An in-person gathering on March 10-12, 2023. 
Location: Big Sky Foxtrotters Ranch | Scottsdale, AZ
The onsite will focus on integrating some of the new ideas into your existing coaching styles. You will have an opportunity to practice coaching each other, with feedback, as well as with volunteer clients on the last day, all with the goal in mind to help you practice integrating these new skills into your Equus Coaching.
Refund Policy:
For cancellations made 60 days prior to the published start date of Level-Up, the Center for Equus Coaching will offer a full refund.
For cancellations made between 59 to 31 days from the start of the program, we offer a 50% refund.
For cancellations made 30 days prior to the program start date, no refunds will be offered.
Please note that any payments made that are non-refundable can be applied to a future Equus Coach® Training, program, workshop, or event, to be used within one year.
"Although I received my certification a few years ago, I have not been actively coaching and was feeling like my skills could use a tune-up.  Welcome Level-Up! What a wonderful way to learn some new concepts and skills, continue to practice in a safe environment, and get to meet more members of our herd!  I benefited as much from the course content as I did from the discussion with the participants who incorporated their real-world experiences into our weekly discussions.  And I'm so glad I decided to attend the Level-Up 2.0 onsite because we were able to practice the concepts we learned in the course with each other and the horses in an environment where we were challenged to try new things and learn experientially which, for me, really reinforced what we had been learning – learning by doing is how I learn best. I encourage anyone wanting to expand their coaching experience to attend a Level-Up – it is so worth it!"  – Kathy Richardson
Join Us Today!
Investment Options:
Attend the telelcasses and the onsite. $1,600
Attend the teleclasses only. $400