Frequently Asked Questions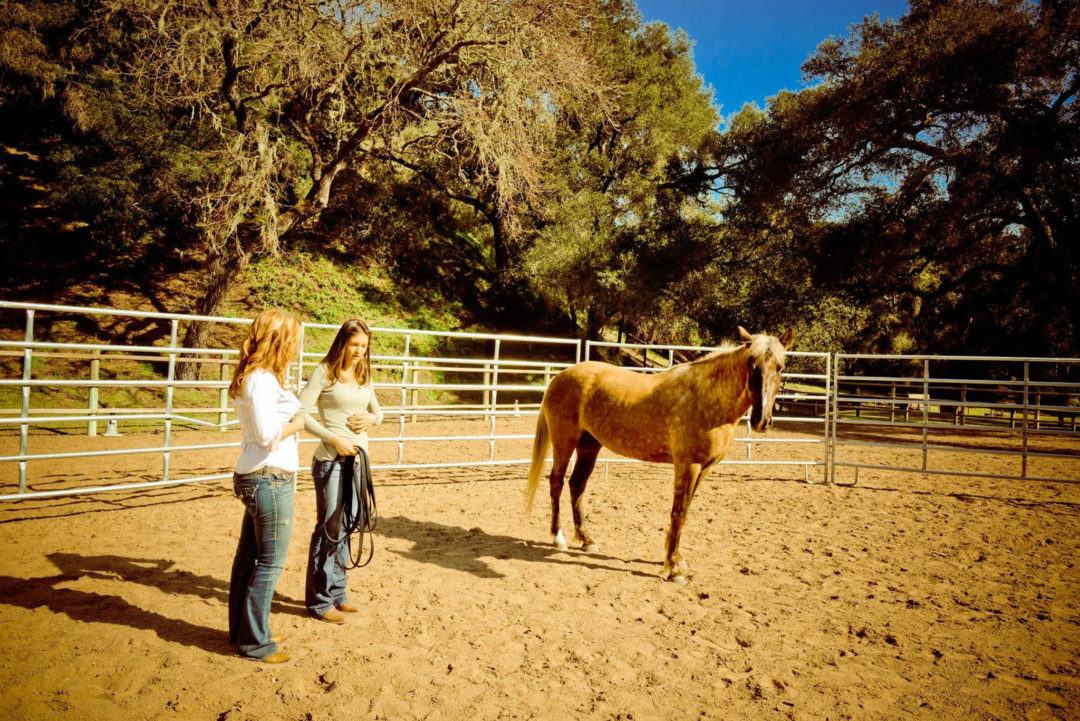 What is Equus Coaching?
Equus Coaching is a unique experience with horses that offers individuals the opportunity to gain a visceral understanding of how their inner dialogue affects their relationships and everyday life. Equus Coaching is a transformational experience that enables a person to shift from internal confusion and conflict to personal alignment and flow.
Equus Coaches work in dynamic partnership with horses to create a playful, open, and authentic environment where clients can dramatically enhance their self-awareness. Horses are keenly intuitive and attuned to people's slightest expressions as well as any changes in their energy or emotions. Therefore, they can help people identify and clear internal roadblocks so that they can move toward a more fulfilling life experience.
During an Equus Coaching session, clients receive clear and grounded biofeedback that connects them to their own inner truth. This environment encourages clients to synchronize with the natural rhythms and wisdom of nature while witnessing the ease with which they can step into their essential power.
The coach will help the client to identify a specific area of life or pattern that they would like support with. As the client interacts with the horse, the coach helps the client to notice the feedback from the horse and assists the client in interpreting what that means and how to apply the feedback to the specific situation the client started the session with. This helps the client to notice how they are showing up, create a shift if they would like to, and practice that new way of being with the horse, all while being supported by their coach.
Who can register for the Center for Equus Coaching Training program
The Equus Coach® Training program is open to any adult who is passionate about helping individuals to lead their best lives and enjoys nature and animals. This program was designed for busy, working adults and our blended learning model is the perfect way to enjoy both virtual and in-person connections.
If you have questions about registering for the program, please feel free to email us at support@equuscoach.com or set up a short, supportive phone call with our Student Coordinator, Lori Moskal (click here) to help answer questions and address any concerns you may have.
We know it's a significant investment in your future and we want to help you make the right decision for your life and work.
Do I need to own a horse to participate in the program?
There is no need to own a horse or have horse property.  As part of the training, we will show you how to create a partnership with equine facilities so that you can get your work into the world and build a successful Equus Coaching practice.
Do I need to have prior coaching experience?
No prior coaching experience is required. As part of the Equus Coach® Training program, we will teach you the fundamentals of personal and professional coaching. If you are already a coach and have participated in another coach training program, you will enjoy deepening your coaching skills and adding tools specifically tailored to working with clients in dynamic partnership with horses.
Do I have to have prior experience working with horses in order to register?
No prior horse experience is required. People come to the training with varied backgrounds in working with horses. For those who do not have prior equine experience, we offer basic horsemanship skills as part of the training program to steep folks in general safety and horsemanship basics, such as catching, haltering, leading, grooming, and physical identification and analysis.
Do I need to experience Equus Coaching before to registering?
We do strongly encourage you to have attended one of our Equus Demo Days, an in-person workshop with one of our Master Facilitators, or to have worked one-on-one with one of our Equus Coaches prior to joining the training.
How is Equus Coaching different from EAGALA, PATH International, or other equine-assisted therapeutic programs?
Equus Coaching is designed for cognitively and physically healthy individuals who are seeking support in their own personal growth. Clients have a desire to better embody genuine personal leadership, improve the quality of their relationships, enhance their creativity, and/or explore a deeper level of connection to their essence. Equus Coaching activities are conducted on the ground (no riding).
Equine therapy has a slightly different focus. Equine therapy, often conducted through organizations such as Professional Association of Therapeutic Horsemanship International (PATH Intl.) or Equine Assisted Growth and Learning Association (EAGALA), tends to focus its therapeutic approach on the physical and mental rehabilitation of a challenged patient. The EAGALA Model requires two trained individuals at each session (an equine specialist and a licensed mental health practitioner) to support the client's needs. Some practitioners are able to work with a patient's health insurance to help cover the cost of services.
The Equus Coaching model is one in which the coach serves as both equine specialist and coach. This Equus Coach Training program teaches equine psychology and husbandry as well as core coaching concepts and requires its trainees to demonstrate their abilities in both areas before becoming certified as an Equus Coach.
I am a trained coach who has equine experience or certifications in other equine-assisted therapeutic programs. Will this course be too introductory for me?
No. Regardless of your previous coaching and equine-assisted therapeutic training, the principles, techniques, and concepts you learn through the Center for Equus Coaching will be unique. The coaching model and framework conveyed as part of the Equus Coach® Training curriculum is specifically designed to combine life coaching techniques developed by The Center for Equus Coaching with a deep understanding of the feedback and wisdom of horses. In this course, you will learn how to facilitate private one-on-one sessions with clients that help them look at their own patterns and internal dialogues to see how those thoughts and tendencies impact their relationships and overall environments.
I am very comfortable around horses and have a lot of equine-related or horsemanship experience. Will I be unnecessarily spending time covering husbandry and horsemanship topics in which I am already well versed?
The Koelle Institute has a number of individuals with extensive prior equine experience who have participated in our training. The equine husbandry and psychology presented in this training are specific to understanding how these topics lay the groundwork for the transformative relationship between horse and human in a coaching encounter.
How does Equus Coaching complement psychotherapy or other talk therapy models?
Equus Coaching sessions can quickly and effectively create a great deal of movement or shift in a client's progress.
If a client has been working in therapy and would benefit from an experiential component to assist the client's progress, licensed mental health professionals may consider equine-assisted activities as an adjunct or complementary modality.
There are several ways to collaborate: a) the therapist may refer their client to an Equus Coach® for one or more sessions, b) the therapist may wish to observe the Equus Coaching session and be present to support the client, c) the therapist may wish to co-facilitate the session with an Equus Coach®, or d) the therapist may wish to become a Certified Equus Coach in order to offer their own Equus Coaching sessions to complement the psychotherapy or talk therapy.