Master Facilitator Program
Open Now!
Fall Registration
Registration deadline is October 8th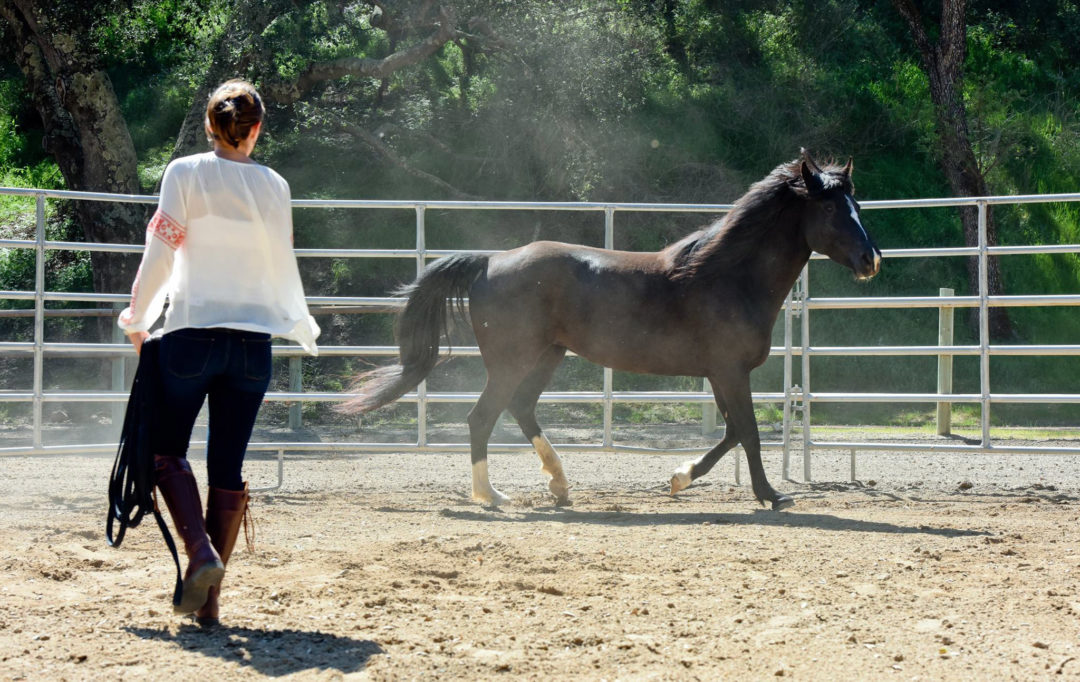 Are you ready to:
Expand your skillset and experience as an Equus Coach®?
Provide equine-facilitated workshops for groups, teams and organizations?
Facilitate recovery and support for Veterans and other vulnerable groups?
Increase your confidence and horsemanship skills with multiple horses?
If you are being drawn to grow your skill set, we would like to support you on that journey!
It might seem like an easy next step in the growth of your business to start running workshops, yet once you take the leap you can quickly find yourself overwhelmed with all sorts of unexpected challenges. We're excited to offer you the Master Facilitator Training to help give you a big "leg up" in facilitation skills, experience, and the overall confidence needed when it comes to running workshops. Let us provide you with all the practical tools and insights you'll need to grow into the next chapter of your business.
We know firsthand what it's like to embark on the precarious adventure of growing your own business, developing your client base, working with a wide variety of client issues, and learning the ropes for how to successfully deliver an event.
If you are ready to embark on the next chapter of your business, we invite you to join us for the training.
Master Facilitator Training Overview
We're here to help you cultivate your ability to:
Work within a limited time frame to spotlight the core issues and cultivate genuine empathy while supporting a client's ability to witness the feedback they are receiving from the horses
Manage the various levels of priority, including the overall workshop environment, an individual client needs, the needs of the horses, and the needs of the facility
Understand the hidden messages presented by challenging client sessions in a group environment, while creating a safe container for everyone to find a place of connection to the sessions
Support and shape an environment of self-empowerment for each of the individuals as well as the collective group
Recognize the common patterns that arise within relationships between colleagues, friends, couples, parents, and children
Learn key access tools that will help you dissolve dis-harmonic communication and support clients in building their relationships from a new foundation
Communicate with clients, equine venues, and fellow horse owners in a manner that builds a synergistic partnership and, in turn, supports the vision you hold for the success of your business
Improve your overall horsemanship skills and depth of experience to enable you to feel confident in your ability to manage a wide variety of equine behaviors
Outline of the Master Facilitator Training
Your two-year Master Facilitator Training will consist of:
27 – Zoom classes spread throughout the first year
2 – Homework assignments
1 – Four-day on-site
4 – Workshop events to shadow
1 – Personal workshop with a mentor there to support you
Classes
Classes will start on October 13, 2021, and run thru September 2022. A complete outline of the specific dates will be given once you enroll. These will be 60-to-90-minute video conference calls scheduled on Wednesdays 12:00 pm PT/ 3:00 pm ET. We will gather to review content and offer live coaching and feedback.
On-site
4-Day on-site: December 9-12 2021, Ramona, CA.
The first 2 days of your on-site will focus on further developing your horsemanship skills and confidence.
During the remaining 2 days of your on-site, we will bring in volunteer clients to help you focus on developing your Equus Coaching skills in a workshop environment.
Shadowing 4 Workshops
In order to help you really learn the ropes first hand, you will be asked to shadow four workshops. During these events, you will be helping with workshop logistics and shadowing the participants' Equus Coaching sessions.
Keep in mind that these events are usually spread over a 2-year time period to help you manage your travel budget and give you time to integrate your learning.
You can choose to shadow Equus Coaching Course on-sites, general workshops, and/or corporate retreats facilitated by any of the Institute's instructors, as well as the option to shadow 1 mentorship workshop of a fellow classmate.
During these events, you may be asked to coach clients. You will receive feedback on your Equus Coaching at the conclusion of each workshop.
Attending these events is an important part of your learning process. It will provide you with the volume of experience and supportive feedback to feel confident in your ability to hold workshops.
1 Mentorship Workshop
In order to most effectively help prepare you for running workshop events on your own, a part of your training requirement will be to organize and facilitate a 1-or-2-day workshop in your home town or chosen location. Each of the classes and shadowing workshops are specifically designed to help prepare you for designing and running your own successful workshop.
When you feel ready to test out your skills, we'll work with you to help you decide on a workshop topic and pair you with an instructor who will help to mentor you throughout your event. Your mentor will travel to your location and be available to help with general questions, review your workshop schedule, offer active facilitation where needed and give supportive feedback at the conclusion.
Your Personal Workshop Requirements:
You'll need a minimum of 6 paid participants
We recommend keeping your group small on this first event (6 to 8)
You'll set your own workshop price in order to cover your costs
You can choose to design a 1-or-2-day workshop format
You'll choose an instructor to mentor you
The mentor will offer you live support, guidance, and feedback for your workshop
The cost of your mentor's travel and time is included in your tuition
Note: if the mentor's travel is international, extra costs may need to be factored in
Master Facilitator Training is not for the faint of heart!
Your two years will be full. This training requires a significant time commitment, a fair amount of travel, and a willingness to join the adventure of long energetic days spent outside enjoying clients and horses.
It's profoundly rewarding work.
Have a question? Email us at support@equuscoach.com.
Recently Certified Master Facilitator Shares Her Training Journey
Wherever you are in your decision process (and Equus Coaching practice), we want to make sure you have all the information and support you need to make the decision that's best for you.
Recently, Koelle interviewed a special guest, Master Facilitator Jennifer Tucker Visitacion, MBA, about her recent Master Facilitator Training journey and where it's taking her now. Hear her story and answers to questions about this profoundly rewarding program.  Download this call recording.
Have a question that wasn't answered on this call? Email us anytime at support@equuscoach.com
We'd love to hear from you!
Minimum Requirements
Requirements to Be Eligible
You have completed the Equus Coach Training and become certified as an Equus Coach®.
You can demonstrate that you have been conducting successful and effective one-on-one private sessions with your clients. We recommend about 40 hours of private Equus Coaching experience.
You have shown a strong interest and desire to further develop your skill and knowledge base for running group workshops.
Fees
Course Fee
The cost of the Equus Coaching Master Facilitator Training is $7,500 and includes

All classes,
Your 4-day on-site,
The costs for your mentor to travel to your location and support you during your local workshop.

Please see the payment plan options below.
Note: you will also be responsible for covering your travel and lodging costs to shadow the 4 workshops.
Spaces are limited.
Payment Plans
The deadline to register is October 8th, 2021. Spaces are limited thus we strongly recommend putting down a deposit.
Upon registering for the Master Facilitator Training, you may select a payment plan or you may hold your spot with a nonrefundable $750 deposit. If you place a deposit, you will be asked to select one of the following payment plans by October 8th, 2021.
The Koelle Institute offers payment options to help support you in your investment.
Your payment options include:
Pay-in-Full: $7,500 upon registering for Equus Coach Training, we will apply your deposit fee and/or early bird discount where applicable.
OR
5-pay Payment Plan: Make five (5) equal payments of $1,500 each over 5 months
The first payment of $1,500 is due upon registering for Equus Coach Training,
with four (4) additional payments of $1,500 paid over the next four months,
Adjustments will be made to your monthly amount to apply any deposit fee and/or early bird discount where applicable.
OR
12-pay Payment Plan: Make twelve (12) equal payments of $625 each over 12 months
The first payment of $625 is due upon registering for Equus Coach Training,
with eleven (11) additional payments of $625 paid over the next 12 months,
Adjustments will be made to your monthly amount to apply any deposit fee and/or early bird discount where applicable.
Cancellation Policy:
For cancellations made 60 days prior to the published start date of our Master Facilitator Training, the Koelle Institute for Equus Coaching will offer a full refund.
For cancellations made between 59 to 31 days from the start of your program, we offer a 50% refund.
For cancellations made 30 days prior to the program start date, no refunds will be offered.
Your deposit of $750 is non-refundable but can be applied to future programs or events within 1 year.
Please note that any payments made that are non-refundable can be applied to a future Equus workshop, 1-on-1 coaching requests, a future Equus Coach Training or Master Facilitator Training program, to be used within one year.
Frequently Asked Questions
What about the Wild Mustangs?
In previous Master Facilitator trainings the second onsite centered around learning about nonverbal communication and the language of energy directly from wild Mustangs. We have intentionally adjusted the course design to give students more time to practice their work with clients in a live workshop setting as we felt this was better preparation for you.
As a result of this change, Koelle has now created a new separate Continuing Education workshop for any and all Master Facilitators that would like to learn powerful lessons from wild Mustangs. For more information see Mustang Training: Lessons with the Masters.
Are lodging and travel covered during workshop events I choose to shadow?
No, this will be an additional expense for you to consider. In most cases, lunch will be covered during a workshop event but, all other travel expenses will be on your own. Keep in mind that you can budget for the workshops you choose to shadow and spread the 4 events over 2 years.
Will I be able to teach for the Koelle Institute for Equus Coaching?
This training is focused on supporting you in successfully running your own personal workshops. Although an instructor would need to be trained as a Master Facilitator in order to be an instructor, the Institute is not hiring further instructors at this time.
Please email support@equuscoach.com if you have any questions.