open now!
Spring Enrollment
register by December 31,2023 and save $1,000 off tuition! 
Onsites (Paso Robles, CA):
May 2-5, 2024
September 12-15, 2024
April 24-27, 2025
Zoom classes:
Tuesdays, beginning March 05, 2024 at 2:00pm PT | 5:00pm ET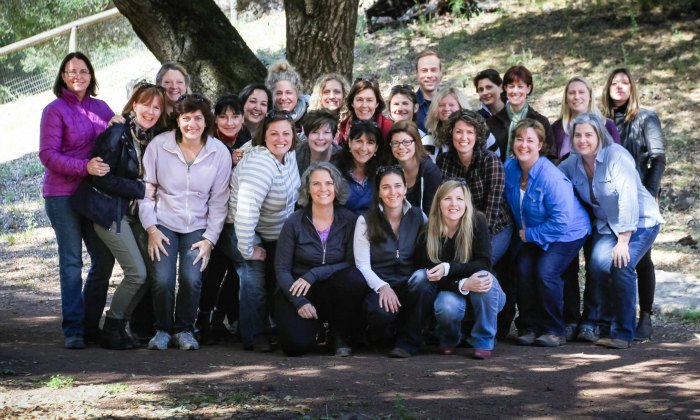 What You'll Learn
Basic horsemanship and safety (no prior experience needed)
How to interpret horse feedback to fuel personal development for yourself and clients
Methods to strengthen and expand upon your existing skill sets in order to help others
How to combine proven life and leadership coaching techniques that generate faster results
Improve your ability to "read" people
The energetics of communication and authentic leadership
Effective approaches to interpersonal and intuitive development
The ability to provide effective 1-1 coaching sessions with clients
What You Can Do as an Equus Coach®
Fulfill a deep desire to truly help others
Provide equine-facilitated activities for individuals, couples and families
Add Equus Coaching to your existing practice
Facilitate trust building exercises
Provide a way back to nature
Encourage people to be themselves
Demonstrate how to be present and live in the moment with the help of a horse
Course Design
Thirty-two live 90-minute

, small-group video conferencing classes led by our experienced instructors.

(48 contact hours)

A comprehensive curriculum designed to help you gain the theoretical knowledge and hands-on experience to become a masterful Equus Coach® capable of facilitating life-changing encounters with horses.
A dedicated community of Master Facilitators and Equus Coaches who will be there at every step to ensure you get the guidance, support, and encouragement you need to reconnect with your own true nature and learn to guide others skillfully through this powerful process
Three 4-day hands-on trainings (on-sites).

(96 contact hours)

Ten peer-coaching, group mentoring classes where you will review and demonstrate ICF Core Competencies and receive feedback from your ICF Certified Instructors
Three one-on-one mentorship calls with your instructors with feedback on your recorded coaching session(s) designed to help you integrate your learning and demonstrate the ICF Core Competencies

(3 contact hours)

No extra fees or costs to become a Certified Equus Coach.
5-month and 12-month payment plans available to help make this investment in your personal and professional development more manageable.

A total of 147 contact hours in this training.

All training is conducted in English.
Topics Covered in the Training
Equus Coaching Fundamentals – explore and implement core coaching principles as well as how to blend these coaching principles with the feedback from the horses
International Coach Federation (ICF) skills and knowledge – discover how to implement the 8 Core Competencies and demonstrate the PCC Markers
Equine-Assisted Activities – practice experiential activities with horses
Business Fundamentals – implement basic steps for setting up a successful practice (or enhancing your existing practice) including setting up a partnership with an equine facility in your area.
Marketing – examine strategies to introduce your Equus sessions to your community.
Ethics – define and follow ethical guidelines and practice in Equus Coaching.
Horsemanship – develop the horsemanship skills you need in order to safely facilitate the equine experience
Video Conferencing Classes
32 classes taught on Zoom (video conferencing platform)
This course includes interactive classes — that take place via Zoom — designed to teach and practice the fundamental coaching tools that we will be using during the training. Enjoy connecting and learning alongside your cohort as our highly-skilled instructors guide you step-by-step in cultivating new levels of awareness and the powerful coaching tools we use to support clients.
On-sites
The first on-site is designed to help you get a leg up in understanding the equine world as well as to experience and practice the skills you will eventually be sharing with your clients.
During this first on-site, you will learn the basics of being an Equus Coach®. This on-site will be led by our team of instructors.
We will help you gain the necessary awareness and skills for how to work with horses and understand the wisdom of the language of Equus. We will also be facilitating Equus Coaching sessions for you that will help you shift the areas in your own life where you are feeling blocked or unsure. We believe strongly that in order to truly serve clients well we have to genuinely open ourselves to dissolving the patterns that no longer serve the life we want to create. Only then can we help our client to cross the same bridge. This on-site is four full days of laughing, exploring, playing, connecting and peeling away all of the cultural layers that prevent us from feeling free to be our wholehearted selves.
Are you new to horses? Don't worry for those of you who are new to the horse world. We'll spend the first few days during this on-site helping you develop your skills, overall understanding and awareness of all things equine.
Are you quite familiar with horses? We'll support you in furthering your horsemanship skills and deepening your relationship to these remarkable teachers.
On-site #2
The second on-site is a 4-day Equus Coaching intensive and practicum where you will begin to practice your Equus Coaching skills with your fellow classmates. You will receive plenty of feedback and support from your instructors while developing your skills at working alongside your equine partners to better serve your clients.
On-site #3
The third on-site is a 4-day gathering where you can practice implementing your new skills with volunteer clients! You will receive support as well as detailed feedback and assessments from your instructor. During the first two days of this final on-site, we will also be taking the time to see where you might need further support with your overall horsemanship skills. Then, on the remaining two days we'll bring in volunteer clients from the local area for you to practice your Equus Coaching skills.
This is a powerful opportunity to assess all that you've been learning and explore the implementation of your Equus Coaching. Your instructors will offer you detailed feedback to assess the areas where you're highly effective as well as the areas that may need further practice or focus.
Certification Process
At the conclusion of your 3rd on-site, we'll arrange a one-on-one call with you to assess any further practice needed to be submitted for video review. You will be eligible for certification after all your assignments and volunteer hours have been completed.
To receive your Equus Coach® certificate of completion, you will be required to:
Attend all three on-sites
Turn in homework assignments from all of the classes
5 hours of riding lessons. (If you are already a rider, choose a discipline with which you are unfamiliar.)
5 hours watching and observing horses simply being horses in an open pasture
20 hours doing any type of hands-on experience with horses or learning about the horse industry. (If you are already very familiar and highly experienced with horses, these 20 hours can be spent coaching clients. Choose the area where you feel you need more practice.)
A minimum of 25 hours practicing 1-on-1 Equus Coaching. Coach at least 5 different individual clients in private sessions (not a workshop setting). They can be volunteer or paying clients.
Have at least 5 clients submit feedback to us for review
Submit a video to be reviewed of any remaining skills assessment we may need to see after your third on-site
The Equus Coach® Training is designed to meet ICF accreditation standards. We are working with the ICF to become an Accredited Level 2 Coach Training Program at this time.
What does this mean for you? Once this Equus Coach® Training program has been successfully accredited, anyone who successfully completes this training will have the coach training and mentoring hours needed to apply for certification by the ICF
For information about ICF Certification click here: https://coachingfederation.org/credentials-and-standards
Registration Process and Fee Schedule
Program Fees & Tuition
Register by December 31, 2023 and save $1,000 on tuition!
The cost of the Equus Coaching Course is $10,750 (payment plans available below).
Your tuition includes:
32 live interactive calls of thorough in-depth curriculum
3 – Four-day Equus Coach® on-sites with a variety of highly skilled teaching instructors
Lunches, drinks, and snacks at the on-sites
Three 1-on-1 mentorship calls with your teaching instructors
Your Certification process
Tuition does not include breakfasts, dinners, airfare, lodging, or transportation to or from the facility.
The Center for Equus Coaching also offers a variety of continuing education opportunities. Learn more.
We know that this program is a significant investment of your time and financial resources, and we take that to heart. We have carefully structured our curriculum to ensure you will be equipped with everything you need to become a successful Equus Coach®. We offer one of the most comprehensive programs available, with a high instructor to student ratio, and a supportive community dedicated to your success.
Please email us at support@equuscoach.com with any questions or schedule time to speak with Lori Moskal, our Student Coordinator.
To Enroll in Our Equus Coach® Training
Place a deposit of $875 to hold your spot or choose your payment plan option or to pay-in-full. Then, check your inbox for a confirmation email that will include class information plus a link to a brief questionnaire that helps our instructors get to know you better. That's it! No other preparation is required. Just come as you are, where you are.
Tuition Assistance Program
We offer a tuition assistance program for a limited number of students for each class. In order to apply for this program, please send an email to support@equuscoach.com with a request for an application. Applications will be processed on a first-come-first-serve basis and will include a request for demonstration of need. If your application is approved and you are accepted to the program at a reduced rate, an offer will be sent to you, at which point you will be able to choose whether or not to accept it and join our training.
Payment Plans
Register by December 31, 2023 and save $1,000 on tuition!
Upon registering for Equus Coach® Training, you may select a payment plan or you may hold your spot with a nonrefundable $875 deposit.
If you place a deposit, you will be asked to select one of the following payment plans by March 01, 2024.
The Center for Equus Coaching offers payment options to help support you in your investment.
Your payment options include:
Pay-in-Full: $10,750 upon registering for Equus Coach® Training, we will apply your deposit fee and/or early bird discount where applicable.
5-pay Payment Plan: Make five (5) equal payments of $2,150 each over 5 months. The first payment of $2,150 is due upon registering for Equus Coach® Training, with four (4) additional payments of $2,150 paid over the next four months. Adjustments will be made to your monthly amount to apply any deposit fee and/or early bird discount where applicable.
12-pay Payment Plan: Make twelve (12) equal payments of $896 each over 12 months. The first payment of $896 is due upon registering for Equus Coach® Training, with eleven (11) additional payments of $896 paid over the next 12 months. Adjustments will be made to your monthly amount to apply any deposit fee and/or early bird discount where applicable.
Refund Policy
For cancellations made 60 days prior to the published start date of our Equus Coach® Training or Master Facilitator Training, the Center for Equus Coaching will offer a full refund.

For cancellations made between 59 to 31 days from the start of your program, we offer a 50% refund.

For cancellations made 30 days prior to the program start date, no refunds will be offered.

Your deposit of $875 is non-refundable but can be applied to an Equus Coach® or Master Facilitator training program that begins within one year.

Please note that any payments made that are non-refundable can be applied to a future Equus Coach® Training or Master Facilitator Training program, to be used within one year.