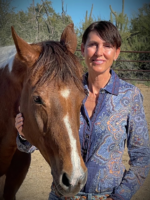 Tracy draws upon her experience in the wellness industry and her passion for helping
others realize their true self and potential.
​
After receiving an Equus Coaching session, she felt the power and presence of horses
and how that partnership changes lives. This is now her lifelong journey and calling.
​
She witnessed personally how horses mirror energetic patterns within, helping to
uncover a deeper understanding of what happens inside us. As she partnered, she
discovered wisdom that resided in her and decided to become certified with the Koelle
Institute. She also furthered her study as a certified Reiki practitioner drawing upon
universal energies.
​
Through her practice, she creates a safe and sacred place to discover how to allow the
horse to deliver us back into our heart! The space she creates helps clients discover
insight and new awareness!
Winters: Scottsdale, AZ
Summers: Travers City, MI