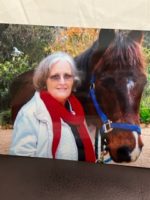 I had my first horse when I was 12-14 years old- definitely a "horse crazy" girl. I returned to the horse world in 2018, as a volunteer at a therapeutic riding organization and then at a horse rescue.
I went through Integral Life Coach training with Wisdom of the Whole, then trained and certified with the Koelle Institute for Equus Coaching in order to offer clients something more exciting and unique.
In addition to nursing, I have a BA in Psychology and a Master's Degree in Public Health.
I would love to support you through any difficult life transitions and especially to help you embrace conscious aging. I see clients in Ventura and Santa Barbara, California, also on Zoom and over the phone.