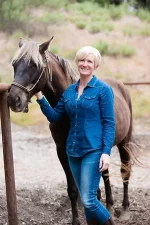 Sometimes I truly believe I am half horse. I love, live and dream horses. My life has had its share of bumpy roads but it led me to becoming an Equus Coach and being present with horses daily.
My coaching connects a person with a horse to help relax the body so the mind can focus clearly. Whether it's relationship issues, painful experiences, addiction, or fears, being present with a horse is a life changing experience. Horses are exceptionally in tune with our energy levels and this helps guide my coaching to fit your needs. If you have a fear of horses, no worries, I promise your fear will disappear. Horses are kind, sensitive and trustworthy.
If you are planning to vacation in Utah please come spend a few hours to connect with your inner self and a horse.