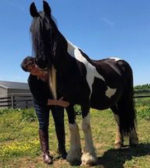 Laura has a long history in the world of horses having been around horses since adolescence. She is in her zone when she can be part of this amazing way to bring horse's wisdom to others. Her intuitive style supports the horse's feedback to her clients, allowing emotional awareness and healing insights to flow.  Life is not linear, hence Laura's agility in her coaching process serves her clients in a very creative and efficient, supportive way.
Laura hails from an international background both personally and professionally,  and her life experience coupled with her training and continued work with horses and humans, make her practice unique and special.
A resident of New York City, Laura likes to say she "graduates of Life" one day at the time. She is inspired by her three amazing children and some wonderful humans and horses.  She is currently seeing clients at a barn in Califon, NJ, and can easily arrange to travel to the client's location in the Tri-State area.