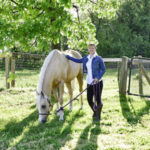 I grew up in the friendship of horses.
At my family's Connecticut farm, the interaction between horses and people was natural and joyful, but as I grew older my focus shifted to competition, and the fun and gentle connection gave way to my career in business.
But the friendship was there, waiting for me. In 2013, feeling the effects of empty-nest syndrome, I attended a Martha Beck workshop in Texas, and life came full circle.
My riding students often told me they found more peace in my lessons than in working with their therapist. With a renewed connection to horses through the field of life coaching, I now help people as an Equus Coach, working with adults, teens, families, entrepreneurs, and community influencers in private and supportive environments locally (Northeastern PA & CT/NY metro area), and at retreats in California & Costa Rica.