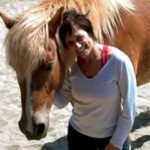 I'm Garet Bedrosian and I have been on a mission my entire life: to understand myself and the world around us through the relationships people form with one another and the ways we come to know ourselves. As a psychotherapist for 34 years I strive to mend all relationships - those with the self, romantic partner, and organizational.
Horses make a natural partner in relational work because they are honest non-judgmental mirrors. They are in-tune to our energy and provide immediate response to what we communicate. Our deeper awareness of this allows a clear path to meaningful relationships.
As an Equus Coach, I offer you a safe and playful way to interact with the horses. Join me at my ranch for individual, couple, or group sessions. Together, let's heal your past and pave the way to a brighter future.