Dagmar (Daggi) Sather Bayer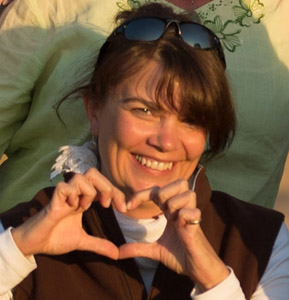 Daggis' work life has spanned from a high-end jewelry store to Personal Assistant for CEO in Abu Dhabi. With a lifelong passion for learning, she trained to treat horses and dogs with physiotherapy, and worked for three years at the German Veterinary Clinic in Abu Dhabi. In 2012 Daggi got the chance to train with Koelle in Dubai and that took her work with horses on a whole new level. The combination of the Martha Beck Coach training with the Equus Training and decades of experience with horses come together in a unique blend. Daggi was fortunate to co-host workshops in South Africa, United Arab Emirates and Jordan. Daggi offers 1:1 coaching and workshops at several locations in southern Germany.
Whether at school (where Daggi coaches young adults) or in an office-environment, Daggi strives to work through empathy, intuition and humor. Her highest intention for clients is to find what they really crave and for them to find a unique way around (or over) any obstacles.