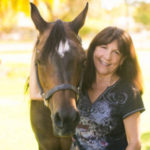 Cheryl is passionate about using the wisdom of horses to help people live a more joyous and wholehearted life. With her keen insight, compassion, and ability to navigate the energetic terrain of Equus Coaching, Cheryl creates a 'gracious space' for promoting self-awareness and the exploration of limiting beliefs and patterns.
Cheryl helps clients experience the non-judgmental and honest feedback revealed through horse wisdom. As clients discover their own inner strength and beauty, fear is replaced with courage, and self-doubt with confidence. When wholeness is achieved, untapped potential is released and unlimited possibilities are revealed.
Cheryl integrates her intuitive and coaching skills with her 25+ years in educational leadership, prevention, and counseling to create transformational and inspirational experiences for individuals and small groups. Cheryl holds a Doctorate in Education, Master's degrees in Counseling and Organizational Management, and a Bachelor's in Psychology.