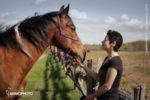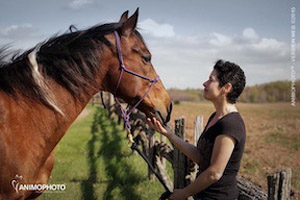 Everything about the human being, life and this connection with nature fascinates me. An animal lover since my childhood, I felt this particular link with horses and more particularly this inter-species communication.
My first experience with Equus Coaching (2 day workshop with Koelle) in 2017 was a revelation. This new life direction is enabling me to offer people the opportunity to experience these unique moments of communion with the'ON' through horses.
In traditional Chinese medicine, the man stands in harmony between heaven and earth. Since 1987, I've been transmitting this reminder of who we are and this love of life as part of my acupuncture practice. Helping others go through the seasons of life and welcome what is, connecting with greater than oneself, being grateful for each moment, that's what my life experience taught me.
I feel a deep joy when I put myself at the service of life by offering these meetings in the heart of oneself through the purity of the horse. This is the invitation I'm giving you.