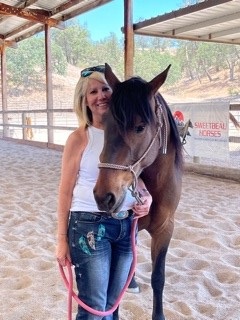 Donna has owned and been around horses since adolescence. Horses have always been her safe place and grounded her through trauma and challenging times in her own life.
Her genuine love of people and horses is what brought her to this journey, to share her knowledge and help others!
To give others that may be healing, stuck, or going through life changes and need guidance to explore those feelings without judgement.
She combines Equus Coaching with a background of 20 plus years in corporate HR training and leadership. She is certified in ZF Extraordinary Leadership coaching, Emotional Intelligence E.Q. certified.
Donna resides in Elizabeth City NC on her horse ranch near the OBX. She has two daughters, and granddaughters that share her passion.