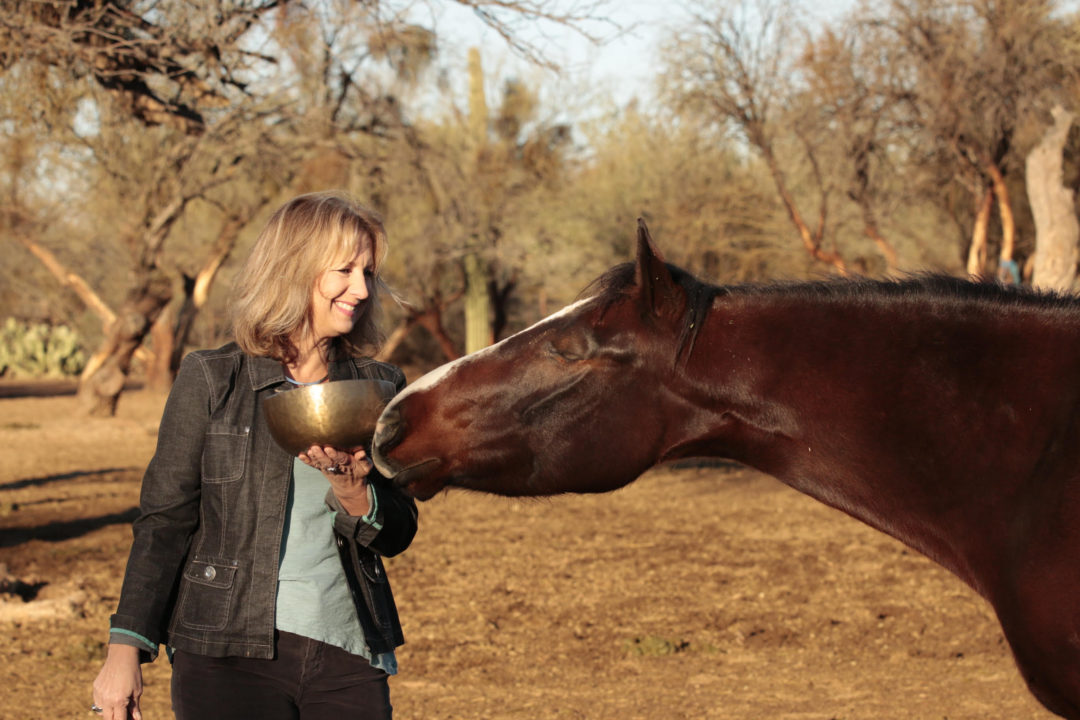 What inspired you to become an Equus Coach?
On my website "About" page, I share a story of a life-changing experience I had with a horse while on vacation nearly 20 years ago. After that, I knew I wanted to help others experience the type of transformation I had. I went through two other certification programs but they were missing something – I just didn't know what. Then, I experienced Equus Coaching and saw the missing pieces. It provided an opportunity to see myself in this incredible animal who mirrored the things going on with me – both the challenges and the areas of ease. Equus Coaching facilitates that conversation so beautifully. 
Can you tell us a little about the business process of how you expanded to provide Equus sessions to your clients in addition to your other types of coaching sessions?
To be honest, I didn't really have a process. I just told EVERYONE about it. As part of my introduction before facilitating a program, I mentioned this work; when I was meeting new people and potential clients, I mentioned this work; when I shared stories of transformation or leadership lessons, I mentioned this work; anywhere it was appropriate, I talked about how horses support our personal and professional development. Also, once I was a Master Facilitator, I started pitching it to clients who were interested in leadership development for groups or team dynamics programs. Most mid-size to large companies have participated in the "latest and greatest" instructor-led programs. They are looking for new experiences that allow for experiential and integrated learning. People may forget the theory or best practice they learned, but they never forget the learning that comes from a personal experience, especially when it involves a horse! My first transformational experience happened 18 years ago and I remember it like it was yesterday.
What do you think Equus sessions can offer that traditional coaching/counseling/therapy sessions do not?
In traditional coaching/counseling/therapy, it takes time for us humans to earn the trust that allows people to feel safe enough to share some of their deeper concerns or challenges. Clients often worry about being judged or wonder if the coach/counselor/therapist has an agenda. It stands to reason because humans are the only creatures who pretend to be something we are not. We fake confidence when we are nervous or even scared to death; we say, "I'm doing good," when the truth is we are barely holding it together; we try to figure out the language that will sell someone on our idea, often leaving out important information to the contrary. Horses have no judgments or agendas. On some level, when we work with horses, we know this. It opens us up to an emotional safety almost immediately. As a result, we are able to work with issues that often take weeks, if not months to uncover in traditional coaching. The other thing is that, as coaches, we observe the horse. Without assuming what behaviors mean, we ask the client to share what it means for them. In traditional coaching/counseling/therapy, we don't have the mirror that is showing up in that way for the client. 
The other thing I'll add is that Equus Coaching reveals behaviors and characteristics that I would have a difficult time gleaning from conversation. For example, I was working with a leadership team. I coached their General Manager and facilitated in-person sessions. We took the group of 14 for an Equus Day. Each person had an individual session and then we participated in a paired "herding" exercise where people worked together to get the horse through certain obstacles. I was trying to get the attention of one pair who just were not responding. When I finally did get them to come over to me, I asked about it. They said they didn't even hear me. I asked if there were times at work when they were so focused on their own goals that they didn't "hear" their colleagues expressing needs. While they looked at each other and said, "no," their colleagues were saying, "oh my gosh – you do this ALL the time!" It opened up a rich discussion for something I couldn't possibly have known was going on as it was never revealed in the other work we did together. From here, we could determine ways for them to be more engaged with their colleagues. 
What has coaching through a pandemic taught you? What have you learned from the horses?
Through most of the pandemic, I was in a state of grief starting with the unexpected death of my mother. This was followed by a series of unfortunate events including evacuations due to wildfires, the complete replacement of the plumbing in my house and a multitude of other more minor events. My saving grace were the horses that lived near me. Just being with them created a sense of peace. They taught me to be still in the midst of all of this, to be present with my emotions and to do what was needed in the moment. Sometimes that was turning on the television and watching the Criminal Minds marathon. The key was to consciously make choices rather than numb out unconsciously. 
I lived and worked alone, so the horses also gave me much-needed hugs. They would hold the space for me that, at the time, I didn't have the ability to hold for myself. They taught me that in grief, words aren't needed. Just be there. 
What advice do you have for other coaches/executive coaches who might be thinking about expanding their services to include Equus Coaching?
I believe we need as many people doing this work as possible! This work helps people see that we are not so different from one another. It provides an easier access to the vulnerability that is needed for effective leadership and team dynamics. If you want to work with teams, you have to go for the Master Facilitator certification. In addition to it being a requirement, it takes your coaching to the next level. 
If you are like me and most of your clients live in other areas, no problem. I have always been able to find a place to run an Equus Day. Start by looking at therapeutic riding places. They understand this work better than others. 
If you have in-person sessions with your clients, it is a wonderful experience to include. I've also had clients who come for a half or full-day session. I always include Equus as part of that. 
Don't allow yourself to be easily discouraged. Most people are very excited about this work. And there are some who don't understand it or don't believe the expense is worth it. I still suggest it to almost every client I have. 
Connect with other coaches who don't offer this and offer to partner with them. You provide an Equus Coaching Session to their clients with the coach present. Or you can offer Equus Coaching to their group if you are a Master Facilitator. One of the first and best opportunities I had was running an Equus Day for another coach's program. 
Finally, remember that our opportunity as coaches is to be really curious about rather than interpreting what we are seeing. Coaching is more about the questions we ask than the information we provide. 
Anything else you'd like to share?
There is a wonderful group of mentors here to support you through this training. Contact us for any help you need.