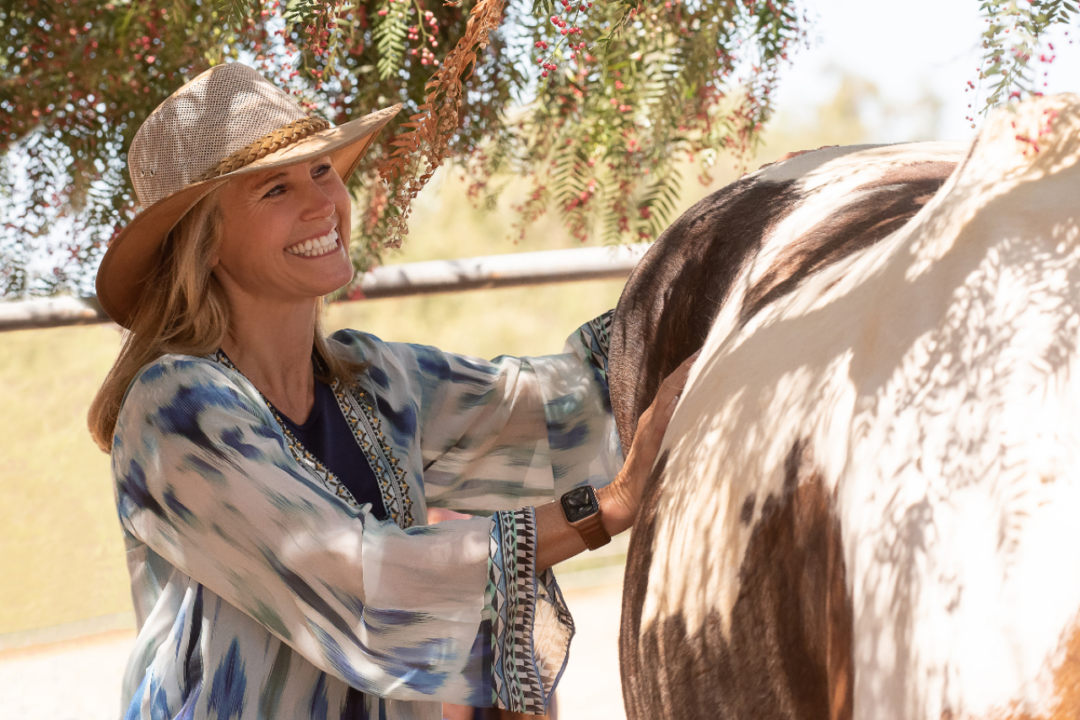 What inspired you to become an Equus Coach?
Horses literally changed my life. My first equine experience was almost 20 years ago. With the horses, I could let go of old narratives about who I was because I had a safe space to practice a more genuine, authentic expression. Through Equus, I learned how to build honest, values-based relationships that honor who I truly am, and what my real needs are. As I was able to do that with the horses, I started doing it with human beings and my whole life changed for the better.
What have horses taught you?
 The horses have taught me the joy, power, and connection of being authentic and receptive to whatever is happening in the current moment. Horses have taught me that when I come from the truest place within myself, I'm simultaneously more "on purpose," and more naturally playful.  Like a horse running wild, I feel more freely alive. The horses  are a magical gift, providing the greatest tools for a fulfilling life.
What do you think Equus sessions offer that traditional coaching or therapy might not?
 We live in a culture that is incredibly head-based. People believe, "if I know this, I am this." On the spectrum of intent to impact we know this is not true. We all know people who have read every book there is on self-compassion and have very little. And, if you're like me, we've been those people ourselves at times. The horses pull us from talking about our patterns to experiencing them in our bodies. As Tara Brock says, "The body is a portal for wisdom."
 I had aspirations of living more authentically and the horses dramatically accelerated my journey on that path. Not only do horses accelerate our capacity to become the person we want to be, but as we continue evolving, they continue to stretch us into that becoming.
 It's less about what you are doing in the Equus session because you might simply be standing there. Horses have the ability to mirror to us the beautiful parts of our souls we haven't seen yet. They also mirror patterns that aren't really getting us the results or the outcomes we want. There's such a gentle presence with which to look at those parts of ourselves with kindness. Because it's experiential we gain deeper access to the lesson. These experiences give us access to find the feeling again and shift actual patterns we have in life. Another wise voice, Brene Brown says, "Knowledge becomes wisdom when it lives in our bones."
How did you expand your existing business with Equus Coaching?
 For 15 years, the core of my work was business and leadership consulting. As a kid who grew up without TV, I found nature my guide. Since it feels like home, I've always used nature's "living systems" as a metaphor and teacher. So the horses and the equine work have become an extension of what I was already doing.
 In terms of building the business, I've let my passion lead the way. I didn't feel like I needed to have the perfect language to sell it. I simply told my personal transformation story with passion.  I let people who were interested in it try it first. Then they started sharing with other people and it's gotten momentum that way. I believe in the power of "raving fans" over social media marketing. That might be because I don't really use social media anyway so it's a less authentic expression for me. 
 For example, one of my clients is the Children's Hospital of Los Angeles. Some of the people interested in trying Equus were the executive physicians. One of them is a woman who was the first board-certified female pediatric cardiac surgeon in the United States. She's a powerhouse leader. She was both afraid and intrigued by the horses. She came and had the most amazing experience with a couple of her colleagues. Now, they're telling people all the time, "you've gotta go do the horses. This changed my life.." They've become advocates with other people.
What is the value of incorporating Equus into an existing business, coaching, or training program?
 Being able to offer Equus sessions is an incredible differentiator in a world where there are many consultants, therapists, and coaches. Equus is just one of the most profound experiences you can offer to people.
 Because of the way horses show up, they allow you to go more deeply into whatever it is your core business offers. So you're able to deliver greater value more quickly to your clients. In my case, I work a lot with leaders. I find that leaders get breakthroughs around their communication,  accountability, and appreciation patterns more quickly. They become more genuine and transparent which deepens trust with  the people they serve. Not only do the leaders have a rich, memorable, experience with the horses, but it also becomes a momentum builder for whatever outcomes they're seeking in their business or team.
What advice do you have for coaches who are working on expanding their business?
 First, think about how you can hold the value of what you're providing while finding a place where generosity serves as a gift – an act of service – that lets people see and come into what you're offering. It sounds like a paradox but nature holds paradoxes all the time. For example, the horses honor their own needs while being attuned to the needs of the herd.
 Discern the places where you're sacrificing your well-being in hope of business vs. the places you can give from overflow. Wrestling with this has been the greatest key to prosperity in my business. In other words, don't be afraid to charge what you're worth, while at the same time, looking for opportunities to provide with generosity. Second, look for ways to partner with others in the same way a horse works with its herd. We are healthier when we thrive together.
Anything else you'd like to share?
We are at a unique moment in human evolution. Horses have exactly the gifts the world needs to heal and renew. I speak for myself when I say that those of us who've chosen this craft have a responsibility to the horses, the planet, and humanity to find the courage to boldly share these powerful gifts with the world. We have an opportunity to support each other in fulfilling the collective potential that we each have to contribute by embracing the possibilities of this work.
 This is our time. The horses have given so much. We are their voice in the world. Let's be bold and courageous with our voices and let's support each other.